Recommendations
SPECIALTIES
Lorem ipsum dolor sit amet, consectet adipisicing eli sed do eiusan temporinc ididuntut abore et dolore mag aliqua. Ut enim ad minam eni am quis nostrud exercitation ullaco laboris nisi ut aliquip ex ea ommo do co nsequathyiu duis aute irure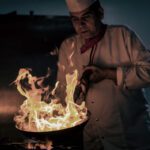 This week's specials
FROM OUR MENU
Classic Greek salad, barrel aged Feta cheese

Saffron and mussel's broth, potatoes, olives

Grilled lamb cutlets, pomegranate glaze
Creole cream cheese, chocolate filigree, cream
Saffron, celeriac puree, black pudding, ham
Red onion marmelade, garlic Foccacia bread

Braised cheek ravioli
$23
Mediterranean olives casserole, celeriac puree
Wild mushrooms, truffle potatoes, braised leeks
I have dined in a lot of top places but this one blew my taste buds away! Congratulations to the chefs and the team I cannot fault any of the dishes I ordered! Brilliant flavours well done.
My daughter and I visited end of may . Drinks in the stunning bar .. best porn star martini ever.. followed by a 5 star dinner .. and the service was above and beyond.. I would highly recommend this place .. just what puerto del carmen needed.. will be back.
Con un especial cuidado al detalle, la cena estaba buenísima, regada con un riquísimo espumoso de malvasia de la isla. Perfecta.